Artron Antigen COVID-19 (SARS-CoV-2) Rapid Test – Box of 25 Test Kits
Box of 25 individually packaged test kits.
The Artron COVID-19 antigen rapid test device instantly identifies the presence of the SARS-CoV-2 nucleoprotein in a simple nasal swabbed specimen.
Authorized for Professional Use
The Artron Antigen test kit has been authorized by Health Canada (IO 327866) for lab-based and point of care testing.
Check the authorization status of all tests on the Health Canada website.
Made in Canada
This high quality test is made right here in Canada by a company with over 20 years experience manufacturing rapid diagnostic medical devices.
Performance Data
Nasopharyngeal Collection
97.22% Sensitivity
99.72% Specificity
Sensitivity, as measured by the positive percentage agreement (PPA), is the percentage of positive persons (that have COVID-19) that will test positive.
Specificity, as measured by the negative percentage agreement (NPA), is the percentage of negative persons (that don't have COVID-19) that will test negative.
Nasal Collection
91.30% Sensitivity
99.56% Specificity
What's Included
25 - Individually packages test cassettes
25 - Swabs
25 - Mixing tubes, pre-filled with buffer
25 - Dropper caps
1 - Mixing Tube Holder Tray for 8 Samples
1 - Product Insert
Detection Window of the Virus (Antigen)
Additional information
| | |
| --- | --- |
| Weight | 0.7 lbs |
| Dimensions | 7.5 × 5.5 × 2.5 in |
Collect Sample
Insert swab in nostril (2cm) and move in circular motions for 15 seconds. Repeat in other nostril.
Insert Sample
Remove the cap from the vial and place the swab in the vial for 2 minutes.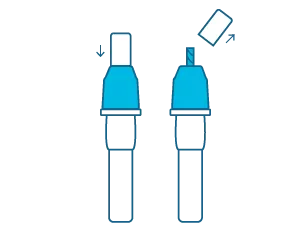 REMOVE SAMPLE
Remove the swab and discard in the included biohazard bag. Replace the cap on the vial and remove the dropper cap.
DROP
Squeeze out two droplets out of the vial onto the designated area of the cassette. Wait 15 minutes before reading results.
Secure Payment
We offer safe & secure shopping experience
100% Customer Satisfaction is Our Goal
If there's a problem with your order we'll do our best to make it right.